Black Plastic Sheeting and Liners for Outdoor Protection, Painting, Do-It-Yourself....
Black PE Films-
Black plastic sheeting is made a vareity of ways to better suit the application it is intended for.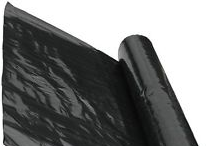 Below are the black plastic sheeting choices that are black on both sides of the film.
If you want to consider liners that are white on one side, and black on the other, please click here for your combination options, as well as our white plastic sheeting choices.
Please click on the product name to learn more about these black plastic sheeting options:
Construction & Agricultural (Visqueen) Many thicknesses
Poly Scrim 8 HD 6 mil Scrim Reinforced
Poly Scrim 10 10 mil Scrim Reinforced
Poly Scrim 12 12 mil Scrim Reinforced
Poly Scrim 20 20 mil Scrim Reinforced
XR-5 Ethylene Interpolymer Alloy (EIA)