Black Plastic Sheeting and Liners for Outdoor Protection, Painting, Do-It-Yourself....
Black Plastic/Poly Sheeting Rolls- 6 mil, 10 mil, 12 mil, 20 mil...
Black plastic sheeting is made a variety of ways to better suit the application it is intended. Lighter/ thinner mil black plastic can be used in the garden, a do-it-yourself project, or to protect furniture/floors while painting. String or scrim reinforced black plastic now has the added strength of string to stop the film from tearing should a rip occur. HDPE black plastic and XR-5 are the tough liners that take on tough jobs.
Whether the plastic sheeting is white, clear or black, 6 mil black is used as a drop cloth, a covering for most anything indoor or out (won't last too long in the sun without UV additives). The flame retardant version is hard to keep in stock! It is used in museums, aerospace, haunted houses, and anywhere fire safety is important. Rolls of black plastic sheeting come in multiple lengths and thicknesses for convenience.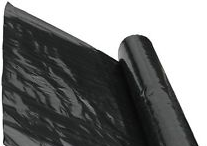 Below are the black plastic sheeting choices that are black on both sides of the film.
If you want to consider liners that are white on one side, and black on the other, please click here for your combination options, as well as our white plastic sheeting choices.
Please click on the product name to learn more about these black plastic sheeting options:
Black Fire Retardant film 4 mil & 8 Mil
Poly Scrim 8 HD 6 mil Scrim Reinforced
Poly Scrim 10 10 mil Scrim Reinforced
Poly Scrim 12 12 mil Scrim Reinforced
Poly Scrim 20 20 mil Scrim Reinforced
XR-5 Ethylene Interpolymer Alloy (EIA)