Green Roof Drainage- Bonar BGR 9118
BGR 9118 is a geo-composite composed of a three-dimensional entangled polyamide filament network thermally bonded to a non-woven polyester/polyamide filter fabric on one side. The filter fabric extends 100 mm (4 in) to one side to provide an overlap to cover the joints between adjacent rows and maintain a continuous filter coverage. BGR 9118 is an environmental con-
scious green roof drainage that contains 40% post-industrial recycled materials.
BGR 9118 Applications
BGR 9118 is a drainage composite designed for low slope (minimum 2%) extensive green roof applications. It is suitable on both conventional and protected membrane roof (PMR) assemblies.
Roof Gradient

Problems

Solutions

Flat

<1° (<2%)

· Ponding water on roof and in growing substrate can lead to root rots, poor growth and plant failure

· Use high profile Enkadrains (0.6") to lift growing substrate and plants above ponding water
Features and Benefits
 Lightweight, flexible, easy and quick to install

 Conforms to irregular or curved roof surface

 Easy to cut and meet complicated landscape design requirements

 3D open core provides a high drainage rate with minimal resistance

 High quality polymer drain core is resilient to transient loads and maintains flow

 Drainage core remains flexible at low temperatures for cold climate applications

 Built-in filter fabric prevents soil particles from clogging the drainage core
BGR 9118 Installation
Install BGR 9118 with filter fabric facing up and polymer filament coils down. Butt rolls and cover joint with adjacent roll using the built-in 100 mm
(4 in) side lap to achieve a continuous filter coverage. Butt ends of rolls together. Stagger adjacent roll by at least 1 m (40 in) so end joints
are not aligned. Cover BGR 9118 immediately after installation to prevent wind uplift and degradation by ultra-violet radiation. It should
not be left exposed to the elements for more than 2 weeks.
BGR 9118

Technical Data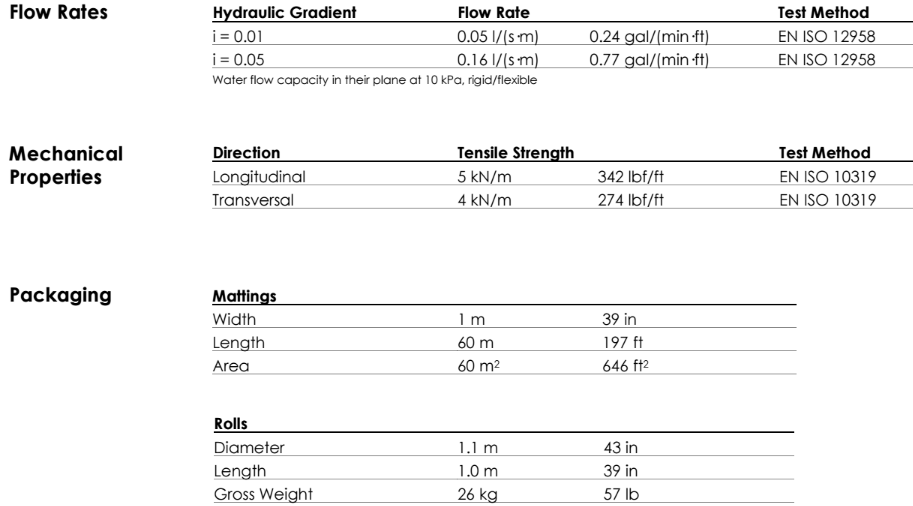 Looking for a Britespan Dealer?
By Phone Toll Free In the U.S. 866 597 9298
By Phone directly: 760 597 9298
By Fax: 760 597 9574
By E-Mail: ContactLee@globalplasticsheeting.com
By Web form click here please.
THANK YOU!