Bayou Backer Erosion Control- Preserve the shore line from erosion
Below are the details for the Bayou Backer Erosion Control Project. To summarize,
The Bayou Backer Erosion Control project basically plants 6" wide strips of HDPE in patterns that have been proven to reduce shoreline erosion in the Bayou. Each strip is 11' - 17' long and floats when the tide is high, stopping some of the shoreline materials, as they pass, causing them to fall to the bottom.
During low tides and strong storm surges, the plastic actually lays down on the bottom, creating a cover that keeps the bottom from eroding.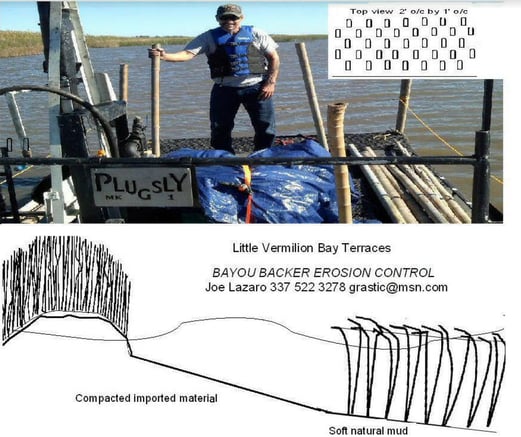 Application Information
Q. First Name
R. Joseph
Q. Last Name
R. Lazaro
Q. E-mail
R.
grastic@msn.com
Q. Phone Number
R.
337 522 3278
Q. How many members will be on your team (including yourself)?
R. 1
Q. Name of idea/venture
R. Bayou Backer Erosion Control
Q. Please describe your mission or idea in one sentence.
R. To cheaply protect marshlands and eroding shoreline.
Q. Which sector best describes your venture?
R. Water
Q. At Propeller, we view water as a broad sector that affects many areas of our lives as Louisianans. Please select the relevant category(ies) for your idea:
R. - Coastal Environments: products, processes, or financing mechanisms that preserve coastal wetlands, mitigate current wetland loss, accelerate or enhance our understanding of the science of coastal restoration, or complement planned coastal preservation and restoration projects
- Water-based Industries: innovative products, services, or workforce development initiatives that address equity and inclusion within water transportation and shipping, fisheries and seafood production, and vessel construction and repair
Q. 1. What specific problem in New Orleans or South Louisiana are you trying to solve? Describe the scope of the problem with relevant statistics. (300 words)


R. Louisiana contains forty percent of the wetlands of the lower forty eight States. They form a migratory hub for many bird and fish species and give rise to our State motto as the "Sportsman's Paradise". Hundreds of thousands of acres are part of the lore and economy of the Bayou State. With fishing, hunting, agriculture, mining of salt, oil and natural gas the main components. The seafood industry depends on distinct ranges of salinity and this plays havoc with freshwater diversions. Oystermen like it brackish whereas marsh creation needs sediments from river flows. Hunting must balance with conservation and energy extraction with ecologic consequences. Each of these enterprises is facing climate change and land loss.
Since the nineteen thirties 1,880 square miles of coast has washed away. In past eons the mighty Mississippi would change course periodically and redistribute it's sediment load. In modern times the river has been restricted to a single path to the Gulf and another 2,250 square miles will be lost by 2067. This represents some of the most productive farmland on Earth and is home to millions of people and some extremely valuable national infrastructure. There are 30,000 miles of burried pipe, 100,000 miles of powerlines, twenty three gas extraction plants and thirteen oil refineries within 40 miles of open water. They're constructed just above sea level making any 40 mile barrier, suspect.

Looking at the State you see the fraying fabric of an unrepentished delta sliced by 10,000 miles of old oil industry canals. These long abandoned avenues to past wealth are now transporting the ocean inland. The natural bays, bayous, rivers, islands and present day shipping channels form another 10,000 miles of eroding surfaces. The Port of New Orleans is the sixth largest by volume and the thirteenth by value in the U.S. with 500 million tons moved yearly. It is the movement of goods throughout the State that causes significant erosion daily. Persistent boatwake is insidious and difficult to address. A storm surge, flood or oil spill makes news and billions may get spent on damages. The less dramatic nibbling away is left for study, plans, volunteers and Bayou Backer to fix.
Q. 2. What specifically will be your products or services to solve the identified problem? (400 words)


R. The most abundant shoreline protection in the State is grass and it served as a model for Bayou Backer. I use 30 mil HDPE plastic as an analog that's planted in water too deep, salty or turbulent for real grass. We work from shallow draft flat bottomed boats in 18" to 4' of water eight to thirty feet from shore. On deck, a roll 6" wide by 500' long dispenses a strip of 30 mil plastic 10' to 16' long. It's called a 'plug' and it moves flat along the deck towards the bow. The plug's mid-point stops under a standing ramrod 12' to 16' tall. The ram powers down folding the plug in half, through the water and 2 or 3 feet into the bottom. This leaves 2 blades sticking up in the water.


The plugs are held by suction and do not need further anchoring. They are spaced 2' apart in rows 18" apart in swaths 24' to 60' wide running parallel to shore. The blades overlap and interact to damp wave action and trap sediments (like grass or seaweed would). In a strong current or storm surge the blades lay over to shield the bottom like a shingle. Mud can be knocked out of suspension and aquatic flora and fauna take hold of the plastic surface. This so-called "bio fouling" is really the first stages of accretion and is beneficial to marsh preservation. In time mud or sand may build up in the plug installation to further protect the shoreline.

HDPE plastic is used globally in agriculture, industry, infrastructure and recreation. There are millions of miles of irrigation lines, hundreds of thousands of pipelines, thousands of square miles of pond, land fill and channel liners and billions of childrens play equipment in daily use. Highway culverts that outlast steel, water lines that won't leach lead and floating balls to reduce evaporation from city lakes supplying water. Some may think bio-degradability is the answer to all things plastic but ignore one big problem. 'Bio' means life and if it's degrading something it's eating it. Making edible plastic is a horrific waste of water and energy because litter is really a social and economic problem.

Installation of the plugs is relatively fast and the wave damping immediate. Any reduction in wave force benefits nearby grasses. Tests and field observation show more growth behind any form of barrier. Billions are spent moving heavy wet mud around the marshlands. With dozens of big diesels burning 55 gallons per hour for weeks on end the carbon footprint is huge. Your lovely new berm, levee or marsh has created enough greenhouse gasses to negate the long term benefits. The most efficient internal combustion engines run only about 16%. The other 84% warms the environment. Higher seas, wind speeds and downpours are already normal.
Q. 3. What difference will you make in peoples' lives or our environment within the next 12 months?How will you measure this? (300 words)


R. During the coming year I will continue field testing my two Coastal Use Permits
P20150655 and P20140480 in Vermilion Parish. They serve in the development and marketing of Bayou Backer to all my customers. Federal, State and Local officials are looking for cheap, effective ways to slow land loss and I'm offering one. To complete my work in Little Vermilion Bay will take a sizable investment and I'm pitching with that goal in mind.
A State Coastal Use Permit brings a measure of law enforcement and protection to the test sites. All materials and the physical area under study cannot be violated by crabbers, fishermen or vandals. They face trespass, damages and possible loss of license if they mess with an installation. The State wants Bayou Backer to work as advertised and a fair evaluation. Anyone making a living on the bayou must see the value in preserving the marsh even if it means an adjustment on their part.
The installation becomes a small refuge for crabs and any other sea life nesting in traditional near-shore environments. Keeping trawl nets away from eroding shores is a good thing. Keeping small commercial boats away reduces boat wake damage. If these businesses see their range moved slightly it is in the cause of preserving the range itself. Once a population is established, new generations move out to be captured. This has been seen in the Rockefeller and McFadden Wildlife Refuges. You don't pick fruit by chopping down the tree.
One of the most important things my product addresses is persistent boat wake. A light ship of 200 to 550 tons moving at 6 to 10 knots through a channel is a marsh bashing machine! Sets of 2', 3' and higher waves hitting shorelines is common and speed laws are politically fraught. An hour or two lost in transit is measured as an immediate loss to an oil service boat. 'No-wake' zones cost both businesses and enforcement agencies money but with land losses at an acre per hour they both share the same fate. My Bayou Backer system cheaply reduces wave energy while commercial and conservation interests battle over speed limits.
In the next 12 months we will gain insights into human behavior, mechanical processes and climate change. These forces aren't static and are difficult to accurately forecast. Our computer modeling and number crunching generates a lot of heat. Silicon chips need air conditioning to keep from melting and any physicist will tell you that making measurements changes what you're measuring.
Q. 4. For your product/service, please identify: 1) potential paid users and/or 2) beneficiaries. Please describe who they are. (600 words)

**Required: Interview or survey at least five potential paid users and/or beneficiaries to gauge their interest in using or paying for your product/service. Please share your findings, survey results, or customer research data with us.
R. The introduction of my product into the erosion remediation market has a long list of beneficiaries. Most are governmental like the Federal offices of the BLM, and the State of Louisiana through the Office of Coastal Management. The La. Dept.of Wildlife and Fisheries has already shown their interest with a 2008 proposed installation on Marsh Island near their headquarters. NOAA Fisheries and the National Resource Conservation Service have been asking for a demonstration project for a decade and I now have two such projects. The Army Corp of Engineers, Vermilion Parish and the general public have all approved my permits.
The coastal parishes of Cameron, Vermilion, Iberia, St. Mary, South LaFourche, Terrabonne, East Jefferson, Plaquemines, Orleans and St. Bernard have been pitched to. Any and all are potential customers with BP oil spill settlement funds to work with. They may spend on a few high dollar marsh creations and levee building projects but could cover a far larger area with my product. Some have written in support of funding for Bayou Backer development and these notes can be found in theattached files.
In the corporate sphere oil companies dealing with legacy damage, mining interests and engineering firms will use my product once it's mandated by State and Federal agencies. They all have similar problems with erosion and money so a low cost wave damper will buy time and save funds. Hundreds of thousands of acres are under their watch and millions of jobs, households and share holders are counting on them worldwide. A look at the New York Stock Exchange shows many shares are held in at-risk landscapes. My product has the global market potential to become a key U.S. export.
The family trusts and non-profits form a large group in need of Bayou Backer. They do great work with volunteers planting grass and members getting grants for wetlands protection. The scale of the land loss however is so high that more needs to be done and that's where I come in. I can mechanically plant a swath in front of an eroding shoreline and leave plenty of funds for real grass plantings elsewhere. The plugs can make the most of freshwater diversions by capturing the newly arriving sediments.Please refer to the attached PDF file for letters of support.
Q. 5. What have you learned regarding organizations or companies providing similar products/services in your field? (300 words)
R. The highest return on investment of any oil based product is plastic. Sixty five percent of refined crude is burned in the cause of transportation or power generation. Only six percent is needed to produce all of the plastic we use. Compared to glass and paper it is far less damaging overall to the environment. Visit a glass blower, bottle mill or recycled and ask how the kilns are fired to 1800 degrees F. Spend time around a logging crew, sawmill or paper mill to see how nasty a 'natural' product can be. What I have learned in the past fifteen years about erosion remediation is that all solutions create a carbon footprint. The size is based on the energy used in making the product and the amount used to implement it.
Plastic saves weight, can resist the Sun, chemicals, corrosion and is the pillar of modern industry. When used in a thoughtful manner it will outlast concrete and steel. When strewn about by greedy businesses, countries without landfills or stupid people it is a long lasting menace. Ocean gyros, mangled by-catch, drowned dolphins and tangled turtles are amplified human failures.
I thoughtfully use HDPE without apology because it is the toughest and cheapest means of simulating grass.

Competitors use it as long tubular bags filled with heavy sand or mud. Some for woven mats mixed with real grass or plants. Some as a wood substitute in pilings. All of us pitch to the industrial giants and some receive a sizable payday only to see their dream solution shelved. None of them are doing things my way because I've a patent (B 7824133) and would sue for infringement.


Q. 6. What expertise, capacity, experience, connections, or resources do you (and your team) have that will contribute to your success in implementing your solution? What are your plans to engage/market to your target market and what current relationships or experience do you have that would support the strategy(ies)? (400 words)


R. I have visual, design and mechanical capabilities which I have used to solve many problems over the years. Like getting injured people out of danger as an e.m.t. and doing auto repairs in the middle of nowhere before cell phones. From getting a peach orchard certified organic in California to the irrigation system to run it. I've built large dry stack rock retaining walls in tight spaces and historic fire places and chimneys for the U.S. Forest Service at Taylor Cabin in the Sycamore Wilderness of Northern Arizona and the Powers Cabin outside Safford in the south. Both were accessible only by horseback rides of nine to eleven miles.
My initial design for what I now call Bayou Backer was Grastic Erosion Control. It was a water less ground cover for a drought happy state like Arizona that featured individual blades stuck in the dirt. This became the salient point in my U.S. patent which took six years to eventually win. After Hurricane Katrina I shifted my attention to the Gulf. I made the blades bigger and the dirt became gumbo mud under a foot and a half to four feet of soupy water.
My business partner moved his family to New Orleans from Las Vegas not long after the hurricane and he and I met with Dr.John Foret of NOAA fisheries and Dr. Ron Boustany of the N.R.C.S. in Lafayette on my birthday August 21st 2007. They liked my large tabletop model and said Bayou Backer could immediately be applied to persistent boatwake but we needed more scientific data. In December just before Xmas we met Dr. Gregory Stone the Director of Coastal Studies at LSU.
Because of a last min cancellation we got into their Wave Tank for a four day test run on a scale installation. At scale energies of hurricane strength the plugs damped waves up to 65%. A glowing report from the good doctor got a lot of attention from coastal concerns where I pitched away. I'd place high in grant rankings but just couldn't close the deal.
In 2013 a solar generating array covering thousands of acres bought our long defunct family peach orchard outside Rosamond California. This financed my move from Jerome Az. where I'd lived for thirty years to Abbeville where I've been since. It's a good location for the low rents, friendly locals and proximity to the public boat ramp at Intracoastal City. I've managed to get two Coastal Use Permits in two years. That's a record I'm told because one permit can take more than five. The fact is this State is ready for a simple, cost effective means of shoreline protection and I have it!
Q. 7. What are the 3 biggest challenges your organization will face in the next 12 months? What do you need to successfully overcome these challenges? (400 words)
R.
The first big challenge is raising venture capital. I have developed my product on a shoe string budget for 15 years. With a patent, permits, test sites and letters of support it's time for some real investment. Making and planting 1400 plugs with a hand cranked ramrod is fine for proof of concept. The prototype Plugsly plastic strip installer was a test bed for a larger commercial grade model and Little Vermilion Bay is the perfect test track.
Bidding on thousands of miles of eroding shore remediation requires a commercial scale operation. I'm often pitching to levee boards on the same agenda as Chicago Bridge & Iron. Before the meeting I ask their engineers about rock dikes they build sinking into the mud and if they could use Bayou Backer where weight is a consideration. Later I'm pitching to the levee board about damping the daily wave action that is undermining their multi-million dollar projects. If I had a bigger operation I could act if they were to take up my proposition.
The second challenge may be a general lack of funding for coastal restoration from our present U.S. government. It's run by a climate change skeptic who wants to see more traditional energy developed and their legacy damages ignored. Any funds for marsh restoration could be seen as an admission that things really are changing. I can only hope that our State politicians lobby hard for money as an infrastructure necessity rather than a capitulation to reality. Just say we are protecting pipelines, which is true.
The third challenge is doing anything that shifts our coastal burdens elsewhere. It's a fact that where a levee ends the damages increase. When it's over topped the flood is now on the wrong side and can't get out. When pumping dredged mud for miles the emissions from all that diesel warms the planet. Less ice up north means less coastline here. Changes are part of nature and so are we. I am here to change the nature of shoreline protection.
Right now the BP oil spill settlement is being dispersed to coastal parishes. I hate to think that ecologic disaster is our only way to raise money. My product is oil based so an oil giant might want to use it. It's cheap, easy to install and long lasting.
Compared to coastal studies, engineering and budget battles it can be in the mud before the final print out. Look at the letters of support , the active permits I've gotten and the prototypes I've built with virtually no money. Are you buying my pitch?
Q. 8. Describe what you hope to achieve one year after the competition. How long will it take you to implement your project overall? (300 words)
R.
Within a year of this competition I hope to have completed my Little Vermilion Bay demonstration project and be giving tours to customers. Having a 'showroom' is critical to State and corporate interests looking for shoreline protection. It's a twenty min boat ride from the launch and I can carry four plus myself. As we cruise around the plug installation we'll see sediment and moss on the plastic and possibly floating aquatics. We can measure changes to the bottom on gauge poles set within the plug array. We can ride the boat wakes of passing crew boats ignoring the no-wake notice.
To accomplish this will take money. If an audience member wants to buy in my partner and I will listen. Their position would be based on how much they wish to invest in Bayou Backer. I have laid the groundwork for a new approach to an ongoing catastrophe. It is a global issue wherever soft coastlines meet rising and rougher seas. It won't stop the tide but will cushion it's blow and catch sediments being carried by. It will reduce emissions because it's light weight and easy to install.
Once funding is secured and we have a larger base of operations customers will pour in. News reports on TV will get international attention and the inevitable opposition to anything different will arise. Luddites and traditionalist fearing loss of stature are good at finding fault without offering alternatives. Except perhaps, a return to a hunter-gatherer society. I am ready for resistance and may actually win a few converts but with land loss at an acre per hour points won in debate are soon no points at all.
Q. 9. Financial: Please indicate your current thinking around the financial cost of running your business and sources of revenue. (600 words)
R. To launch Bayou Backer Erosion Control has four elements. The first is equipment
to handle, haul and install plugs. A warehouse, a boat trailer and a Plugsly plastic strip installer. I estimate this to be $178,945.
The second is completion of our demonstration project P20150655 in Little Vermilion Bay. I estimate the cost of
plastic at $27,450 and labor at $ 83,475. The third is licensing at $ 30,000. The fourth is a profit at 10% of total cost of labor, material and licensing. I estimate this at $ 14,092. So the total cost of starting my company is $ 333,968.
The Plugsly is a 28' by 8' shallow draft flat bottomed boat with a 250 hp outboard and specialized equipment. The crew of three is paid $27 / hr each for a 5 day week plus time and a half on Saturdays.The three shop helpers are paid $17 / hr with time and a half on Sat. Workers Compensation is calculated at $50 / hundred payroll. The material to complete Little Vermilion Bay is 450 rolls of 30 mil HDPE at $61 / roll plus tax and shipping to Abbeville. The licensing is paid to Grastic Erosion Control LLC, NOLA on U.S Patent B 7824133 held by Joseph Lazaro.
Once the LVB demonstration is underway, tours will begin. I have many interested parties waiting to see the plugs in action. These include State agencies, Parish officials, levee board members and the media. The coverage will bring worldwide attention and the chance of venture capital. This would launch us around the State the country and the planet. There is a crying need for cheap shoreline protect.
Our prices per mile are close to what is typically spent on a study. Prices of what's currently available for installation run $ 875,000 to $ 2,000,000 per mile. We can undercut the competition significantly and cover twice the ground. A single Plugsly
should be able to do 2.5 miles per 8 month season and earn $1,613,395. I would like to have 4 of 5 working.
Anyone or group ready to change the world of shoreline protection and bring my 15 year saga to fruition is welcome. There is a great opportunity here and a lot of groundwork has been completed. The price of equipment can be recovered in the first few paying miles. The dozens to come in a Plugsly's career of 10 years means more profit! Please refer to the attached PDF files. Thank
Q. How did you hear about the Water Challenge?
R. - Referred by Propeller