GPS HD 40 mil- HDPE Plastic Sheeting for Root Barrier, Pit liners, Soil Remediation, Canal Liner

GPS HD 40 mil is a smooth, high quality, high density polyethylene (HDPE) geomembrane produced from specially formulated, virgin polyethylene resin. This polyethylene resin is designed specifically for flexible geomembrane applications. It contains approximately 97.5% polyethylene, 2.5% carbon black and trace amounts of antioxidants and heat stabilizers; no other additives, fillers or extenders are used. GPS HD has outstanding chemical resistance, mechanical properties, environmental stress crack resistance, dimensional stability and thermal aging characteristics. GPS HD has excellent resistance to UV radiation and is suitable for exposed conditions. These product specifications meet or exceed GRI GM13. This product is used as a root barrier to stop bamboo roots and other invasive plant roots.
Excellent chemical resistance
Outstanding stress crack resistance
Lowest permeability
History of proven performance
Meet or exceed all aspects of GRI GM 13
All GSE geomembranes have dimensional stability of ±2% when tested with ASTM D 1204 and LTB of <-77° C when tested with ASTM D 746.
Tensile Properties (each direction) ASTM D 6693, Type IV 20,000 lb
Strength at Break, lb/in-width (N/mm): 152 (27)
Strength at Yield, lb/in-width (N/mm): 84 (15)
Elongation at Break, %: 700
Elongation at Yield, %: 12
Tear Resistance, lb (N)- ASTM D 1004- 45,000 lb- 28 (125)
Have Root Barrier or other HD Question?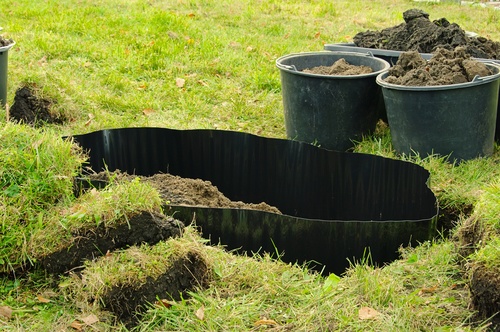 By Phone Toll Free In the U.S. 866 597 9298
By Phone directly: 760 597 9298
By Fax: 760 597 9574
By E-Mail: ContactLee@globalplasticsheeting.com
By Web form click here please.
THANK YOU!