30 mil Heavy Duty Plastic Sheeting/ Geomembranes
Check out the heavy duty 30 mil liners below!
Bring out the big guns!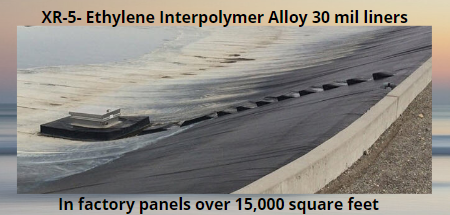 XR 5 geomembranes
are highly resistant and non-degradable with extreme puncture and tear resistance, as well as dimensional stability under high loads and temperature fluctuations. All
XR Geomembrane
products are classified as an Ethylene Interpolymer Alloy (EIA). They are very stable, with low thermal expansion and contraction properties and come in factory panels over 15,000 square feet (1400 square meters) for less field seaming.
GPS DeckProtek 30 mil is an extra heavy duty plastic sheeting product that is used for heavy duty protection.
Want to talk about 30 mil HDPE? We DO!
By Phone Toll Free In the U.S. 866 597 9298
By Phone directly: 760 597 9298
By Fax: 760 597 9574
T

H

A

N

K

Y

O

U

!
May we answer any questions for you?