Plastic Sheeting in 12 mil White/Black Heavy Duty / Reinforced and Regular
12 mil plastic sheeting comes in many variations
Listed below are string reinforced, fire retardant, heat shrink wrap, and HDPE forms of poly film.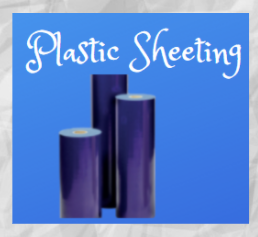 Poly Scrim 12 Mil
Poly Scrim 12
has 2 layers of U.V. stabilized coextruded polyethylene and high strength cord reinforcement. Under normal continuous exposure to the elements, this plastic sheeting has an averages life expectancy from 48 to 60 months.
Poly Scrim 12 mil FR PVC
Poly Scrim 12mil is a fire retardant PVC liner. It is a 3 ply, 12 mil extrusion laminate combining two layers of fire retardant PVC film and a high-strength cord grids. Strong yet light weight. A good solution for containment, tarps or covers. Passes NFPA 701 Large Scale-"Standard Methods of Fire Test for Flame-Resistant Textiles and Films".
Heat Shrink Wrap- 12 mil
Heat Shrink Wrap 12 mil comes in both non-reinforced and reinforced rolls, and in fabricated shapes, as well as fire retardant and non-fire retardant versions.
Whether you need to wrap yachts, boats, bridges, Navy Ships, scaffolding or make shipping covers- heat shrink wrap is our customer's first choice.
GPS HD 12 Mil- The HDPE Geomembrane
GPS HD 12 mil is a high quality, high density, smooth polyethylene (HDPE) geomembrane produced from specially formulated, virgin polyethylene resin. Designed for flexible geomembrane applications.
12 mil Grain Storage: 1 piece grain covers
12 mil Grain Storage Covers will protect your valuable assets! As a leading manufacturer of one-piece grain covers nationwide, you can trust Global Plastic Sheeting for all your large, one-piece plastic sheets to cover your needs.
String-reinforced laminated product provides exceptional tear resistance and seam strength.
White side reduces heat build-up and condensation. Black side blocks light transmission.
Ultra violet inhibitors protect against UV damage.
Provides up to 2 seasons of use with proper installation and handling.
Panels can be easily sewn together in the field.
How is 12 mil different from other thicknesses? Let's talk!
We can be reached so many ways.
Contact Your Plastic Sheeting Friends at:



By Phone Toll Free In the U.S. 866 597 9298
By Phone directly: 760 597 9298
By Fax: 760 597 9574
By Web form click here please.
THANK YOU!