Tapes-Heat Shrink Wrap Tape, Carpet Protection Tape,Flame Retardant Tapes, Low Residue, Double-Sided- Tapes that bond to plastic, Tapes for Plastic Sheeting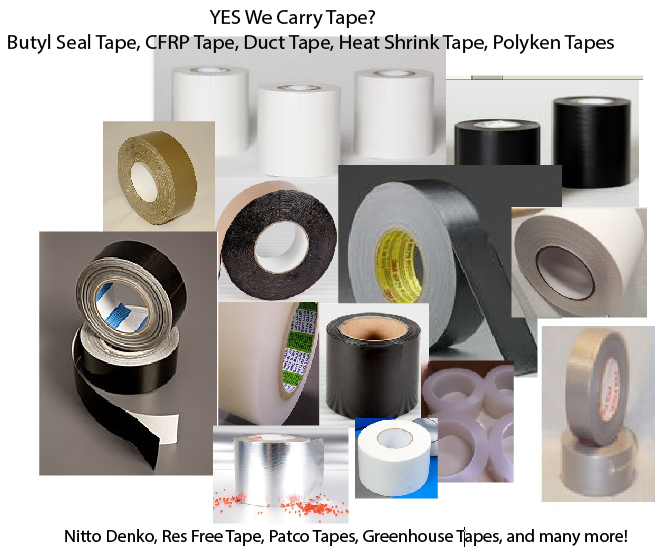 For Adhesive Tape Terminology, please click here. You will find a helpful article there.
GPS Heat Shrink Tape- The Heat Shrink Wrap Tape
GPS Heat Shrink Tape was formulated to meet the demanding needs of Shrink Wrapping applications. This white tape is standard in 4" x 180' and 2" x 180'. The 4" has pinked edges for easy hand tearing in the field. This tape adheres very strongly to heat shrink wrap polyethylene. We made this one to withstand the elements, so it adheres very well over a wide temperature range. This tape is highly water resistant, is strong and durable, while remaining flexible and conformable.
Please click here for more info on GPS Heat Shrink Tape
TGM-3300 Buytl-Based Tape-Water-Proof!

TGM-3300 is a butyl-based tape that has a release liner on each side of the material. It is capable of bonding a variety of items together. TGM-330 stays flexible during its application but offers an aggressive grip. It provides immediate adhesion on contact, and maintains a superior long-term bonding. This gray tape is perfect for metal, plastics and some fabrics. TGM-3300's pressure sensitive properties allow a fast, clean and easy application.
Size: 2"x50'
Click here for specifications and details
Please click here for customer reviews. Click on the "Reviews" tab.
Polyken 225FR Tape 2" x 60yds It's Fire/Flame Retardant!


Polyken 225 FR is a superior flame retardant polyethylene coated waterproof tape with an exceptionally aggressive adhesive to a variety of substrates including steel and plastic. MORE INFO
Vapor Tape-Heavy Duty, Weather Resistant


This white single-sided tape combines a heavy duty, weather-resistant polyethylene backing with an aggressive rubber adhesive.
It provides excellent seaming strength for vapor retarder, cover, and liner applications.

Test

Typical Value

Typical Value

Metic

Test method

Total thickness

8 mils

203.20

ASTM D 1000

Adhesion to Steel

60 oz./in.

6.57 N/cm

PSTC-1

Adhesion to Backing

22 oz./in

2.42 N/cm

PSTC-1

Tensile Strength

23 lb./in.

40.28 N/cm

ASTM D 1000

Maximum Performance Temperature

180 D F

MVTR (96% RH, 100°F)

0.119 Perms

ASTM D-3833

E longation (%)

90 %

Tack (Rolling Ball)

2.25"

Minimum Application Temp

30°
Polyken 268 Black FR(Flame Retardant) Tape 2" x 100'
Polyken 268 black FR tape is a medium adhesion Black Color Tape, General-duty, Low chance of adhesive residue on surface when tape is removed.
Global CFRP Tape 3"x 60' Black or White
The Virtually no residue tape!
Flame retardant PVC Tape- Black, White, Red, and Orange.
Click here for details for Global CFRP Tape
Butyl Seal Tape-the double-sided rubber tape

Butyl seal is a double-sided aggressive reinforced black butyl rubber tape.

Vapor Tape Plus is a single-sided aluminum foil tape with a release liner for ease of installation.
Click here for Vapor Tape Plus Details
R25B Tape

R25B Tape is a single sided aggressive synthetic elastomeric adhesive that bonds instantly to properly prepared polyethylene and polypropylene.
Click here for R25B Tape Details
ZipWall Double Sided Tape
Zipwall Double Sided Tape: The Tape that holds plastic sheeting to the wall without harming the wall surface!
ZipWall double sided tape makes is as easy as it gets to cover or seal anything with plastic sheeting such as thermostats, paintings on a wall, window openings, etc. This double-sided tape is like traditional painter's tape on one side, while the other side has an adhesive designed specifically to hold plastic sheeting in tact. This tape is made with paper not cloth, so its a cinch to tear. You can forget the scissors and knives.
Need to move the plastic? The adhesive on side 2 (plastic-side) gives you about an hour to adjust or reposition the plastic sheeting. The ZipWall tape is rated for 14 days. We recommend testing the surface you plan to add the tape to.
Roll Size: 1" x 60', 2' x 60'
Side 1 is like painters tape
Side 2 hold plastic tightly
Let's you reposition the plastic for up to 1 hour.
Tear like paper since it is made from paper!