Polydress SolaWrap Greenhouse Plastic. The Polyethylene Film with Bubble Design- Extends Growing Season! R-Value of 1.7!

Extend your growing season....Meet the greenhouse plastic covering called,
SolaWrap greenhouse film (with bubbles) is a revolutionary polyethylene film that saves energy, offers UV protection, durability with transparency and extends the growing season. The unique bubble design is what allows Polydress SolaWrap the capability to allow for year-round production at a fraction of the cost of traditional greenhouse films. Known in Europe as LP Keder or Polydress, Polydress SolaWrap is now available in U. S markets. It's an insulated film that withstands the most extreme climates. SolaWrap has a track record for over 40 years of testing in the Swiss Alps, the Middle East, and across Europe. SolaWrap provides an insulating effect that retains up to 95% of heat radiation while providing an R-value of 1.7. This energy savings is significant!
What about a cost saving when growing medical cannabis? According to the INC report..."growing cannabis greenhouse enables almost the same yield at four to six harvests per year, but at a lesser cost. The cultivators reported that cannabis cultivated in the greenhouse can produce a pound of weed at a US$50 (AU$64) cost, when indoor cultivation needs US$300 to US$500 (AU$384 to AU$640) for the same yield."
How does light diffusion work in a greenhouse? Please click here.
Pictured below are the Solawrap connectors or extrusions. Just slide the film into the slot- It's that easy!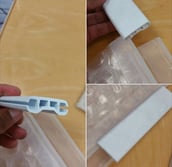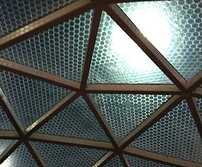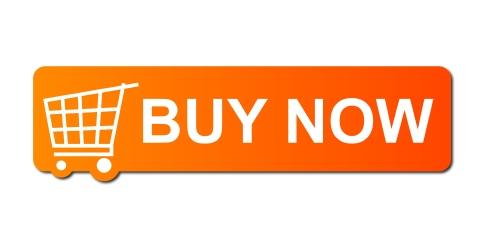 Polydress SolaWrap guarantees an even light diffusion over the entire greenhouse. 83% of sunlight diffuses through more than 100 air burls (bubbles) per square foot. 30% is healthy infrared light. This even diffusion spreads evenly thus avoiding shading and burning areas. The results are faster growing, healthy plants.
Polydress SolaWrap has a 10-year warranty (read here) against UV degradation. For over 40 years, this product has not deteriorated, changed color, become foggy or streaky. Used as greenhouse roofing or walls, SolaWrap is waterproof, and airtight. It has withstood hailstorms, snowstorms, hurricane winds and both hot and cold snaps. Customers report picking strawberries inside the balmy greenhouse, while the temperatures outside are negative 30 degrees Celsius. This same greenhouse withstood snows, 70 mile-per-hour winds and violent hailstorms. Bottom line is, this greenhouse plastic is S T R O N G! Witness this motorcycle being supported by the Polydress SolaWrap!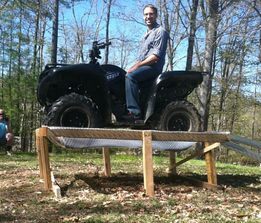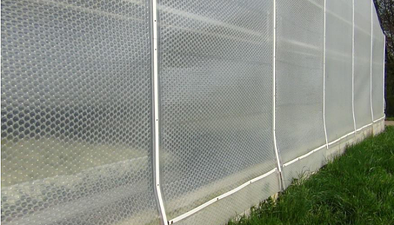 (Can you tell which panel was installed in 1999, and which one in 2010? This film won't become foggy and has the amazing ability to withstand UV!)
Installation: Polydress SolaWrap is a flexible polyethylene greenhouse plastic that is easily installed! You may cut it with a knife or scissors, and is completely recyclable and can be safely incinerated. Our patent pending slide and lock technology is quick, safe and easy to use.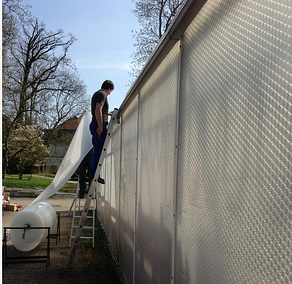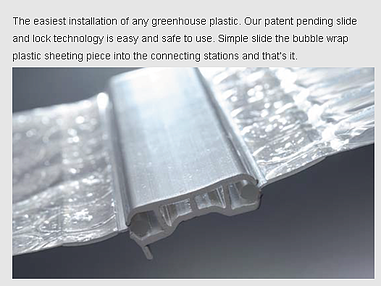 Super fast install. 2 mins per roof section. Notice they are not on the roof. It is extremely safe!
Roll Size: Rolls come in 4', 5' and 6' widths by 328' long.
Click here to visit wwwww.solawrapfilms.com.
For more information call 855 SOLA USA. Thank you