Port/Marina & Terminal Fabric Buildings Perfect for California!
Tension

Fabric Structures for Docks, Boat Storage, Ports, Waterways, and Terminal Storage

Fabric buildings hold up better in marine environments. They are the preferred building solution by Port Authorities and private port firms for a number of watercraft facilities, including port TSA (Transportation Security Administration) facilities, maintenance and repair facilities, warehousing and storage buildings and more. Our fabric buildings are pre-engineered in clearspan widths from 24' up to 300' wide and can be manufactured to any length, with no interior columns to interfere with water crafts and other equipment.
Britespan has designed and engineered custom structures for every industry, from custom widths, heights, foundations, entrances and openings and more. Because we have the hands-on experience engineering these unique structures, you can have the confidence that your Britespan building will exceed expectations.

Britespan fabric structures can be erected on a variety of foundation styles offering permanent, temporary or portable building solutions. These temporary or portable buildings can be completely deconstructed and moved at any time, creating little environmental interference. Foundation options include a base rail "anchor" system, floating docks, asphalt, and concrete block or stem walls to containers.

Customizable Component Solutions for Port or Terminal Storage: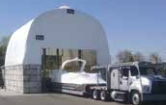 Doors: Building access, whether it is for personnel or for vehicle equipment, and machinery, is an integral part of your business operations and an important factor to the design requirements of your building. Door size, location and opening style are all key considerations and should be including in the engineering of your building before it leaves the manufacturing plant. With all of our building series, door locations can be specified into building end walls and building sides to permit the proper traffic flow.

Door styles and options include: Overhead doors ♦ Sliding track doors ♦ Accordion fabric doors ♦ Roll up fabric doors ♦ Dutch doors ♦ Custom doors as required

End and Side Walls: Building end walls can be configured in a wide variety of options to suit your needs. These include open-ended buildings, one-ended buildings, full fabric end walls, partial end walls, steel clad and wood finished end walls to name a few.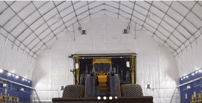 Insulation: Britespan offers competitive insulation packages when you require an insulated fabric building. Insulated fabric structures are typically ideal for mining, oil and gas, and other commercial applications when workers will be operating within a building, or when workers quarters are located within a building.
Britespan has insulated a number of fabric structures from warehouses, workshops, retail buildings, and more.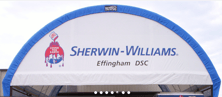 Custom Branding: By using your corporate logo and following your branding colors and guidelines, Britespan buildings can be made uniquely your own and increase the exposure of your business, company or organization. Add custom decals to the roof, end or side walls of your building, nothing it too big or small! Decals can be installed in our fabric facility before building construction begins, or after building construction is complete.
Brightspan Fabric Buildings Are Used For:
Dry Dock & Wet Dock Maintenance
Storage & Warehousing
Boat Storage
Watercraft Storage
Cruise Terminals
Port TSA Facilities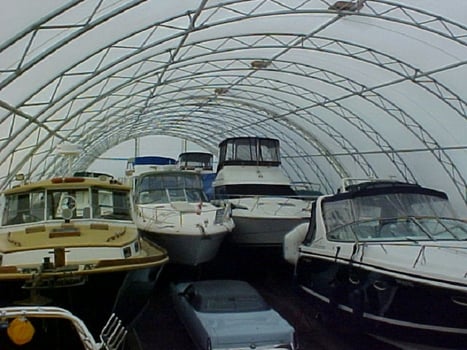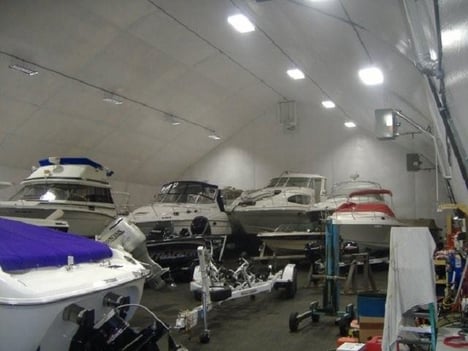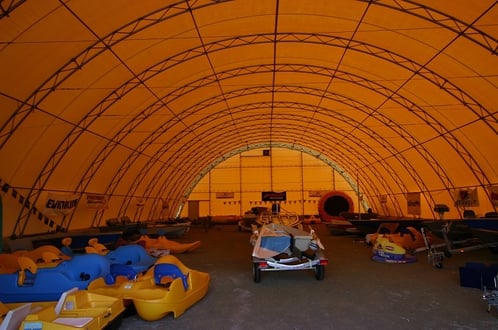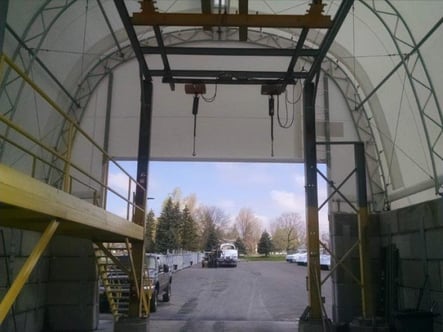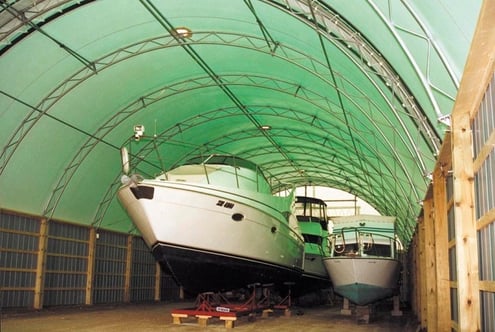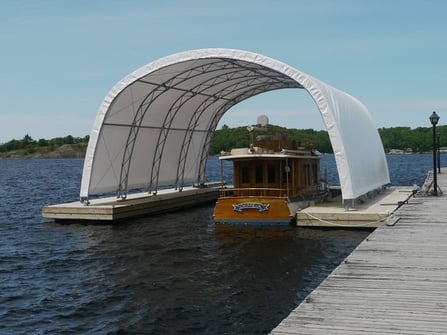 Looking for a

Fabric Buildings in California?

Contact us!
By Phone Toll Free In the U.S. 866 597 9298
By Phone directly: 760 597 9298
By Fax: 760 597 9574
By Web form click here please.
THANK YOU!