MicroBead Biofilter for Recirculating Aqauaculture Systems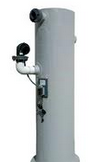 MicroBead Biofilter is a single unit that combines processes for C02 stripping, oxygenationm nitrification and fine solids caputre. The MicroBeach Biofilter is operated in a downflow configuration where influent water is distributed over the top of the media bed. The water then trickles down through the media and gravity flows water out of the reactor vessel. Low cost granular polystyrene biomedia provides an extremely high surface area per unit volume. Maximum nitrification is achieved in a small footprint.
Benefits
Low Operating Costs:
MicroBead Biofilter's cost of operation is roughly 50% less than traditional fluidized
bed biofilters and pressurized bead filters. This is due to the ability of the non-pressurized
MBB to operate with minimal hydraulic head pressure which allows use of low head pumps,
minimizing pumping costs.
Scalable Design:
MicroBead Biofilter's systems are 100% scalable to any size recirculating system and are
sized to achieve the specific water quality required in your system. We provide an in-depth
water quality analysis review with every system to ensure proper sizing.
Degassing & Oxygenation:
MicroBead Biofilter's address multiple water quality issues in one compact
and efficient process including degassing, nitrification and oxygenation.
Wide Range of Applications:
MicroBead Biofilter Systems are powerful biofilters, able to provide
exceptional water quality for a wide range of aquaculture research and commercial
applications
MicroBead systems are 100% scalable to any size recirculating system and are sized to attain desired water quality conditions a wide range of aquatic systems including:
Aquaculture Research Systems
Commercial Aquaculture Systems
Seafood Holding Systems
Public Display Aquaria
Breeding Centers
Broodstock Holding Systems
Units can be easily retrofitted into existing facilities or packaged as part of a complete recirculating system.