Crawlspace 1800 Moisture Barrier for the Basement and Crawlspace Encapsulation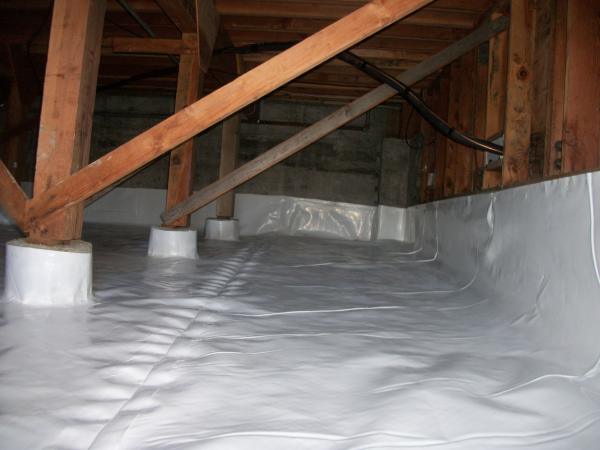 Crawlspace 1800 is an 18 mil (true thickness) reinforced 6 layer extrusion lamination polyethylene designed specifically for use in the crawlspace and basement industries. This film has a black back layer and two layers of bright white film, giving it a very bright white front side for a pleasing appearance. Designed as a cost effective wall covering/vapor retarder, Crawlspace 1800 is well suited to the needs of the crawlspace and basement industry.
Crawlspace contains at least 50 strands of high strength cord per square foot, in a square pattern.
Strong, string reinforced film
Lightweight and easy to use.
Though designed for the crawlspace and basement industries, Crawlspace 1800 can be used in many applications. We can fabricate this product into 3-D shapes, add many accessories, like bung ports, drains, grommets, hems, and loops.
Crawlspace 1800TM is currently stocked in 1oo' and 20' x 50, and 12' x 100'' rolls. While supplies last...going- going.......
Property

ASTM Test Method

U.S. Value

Metric Value

Thickness

D-2103

18.0 mils

.46mm

Standard Weight

D-751

81.0 lbs/1000ft²

39.5 kg/100m²

3" Load @ Yield-MD

TD

D-882

150 lbf

145.0 lbf

667.2N

645.0 N

3" Load @ Break-MD

PSI

TD

PSI

D-882

115.0 lbf

2100 psi

105.0 lbf

1925 psi

511.5N

14.5 Mpa

467.0 N

13.3 Mpa

3" Elongation @ Break-MD

TD

360 %

425 %

360 %

425 %

Tongue Tear-MD

TD

D-2261

30.0 lbf

33.0 lbf

133.4 N

146.8 N

Trapezoidal Tear-MD

TD

D-4533

60.0 lbf

52.0 lbf

266.9 N

231.3 N

PRT Resistance-MD

TD

D-2582

49.0 lbf

47.5 lbf

218.0 N

211.3 N

Dart Impact Strength

D-1709

1.75 lbs

.79 kg

Permeance

E-96

0.0185 Grains/Hr•FT²•in.Hg

1.06 ng/pa-s-m²
MD= Machine Direction TD= Transverse Direction Notice: All values are determined on specimens prepared to ASTM standards. Nominal values should not be interpreted as specifications.
Bright white ideal for crawlspace and basement applications
Superior strength and reinforcement resists tears and punctures
Lower priced than competing materials on market
Low perm film prohibits moisture transmission
True 18 mil thickness (mics out at 20-22 mil over the cord reinforcement)
Crawlspace 1800 Crawl Space Vapor Barrier
Crawlspace 1800 questions? Contact us below!
Don't Put A Barrier Between Us! Contact us for any questions you want to discuss!



By Phone Toll Free In the U.S. 866 597 9298
By Phone directly: 760 597 9298
By Fax: 760 597 9574
By Web form click here please.
THANK YOU!