Fabric Covered Building Specifications
Are Your Specification Current? Here is a list of what you may want to have!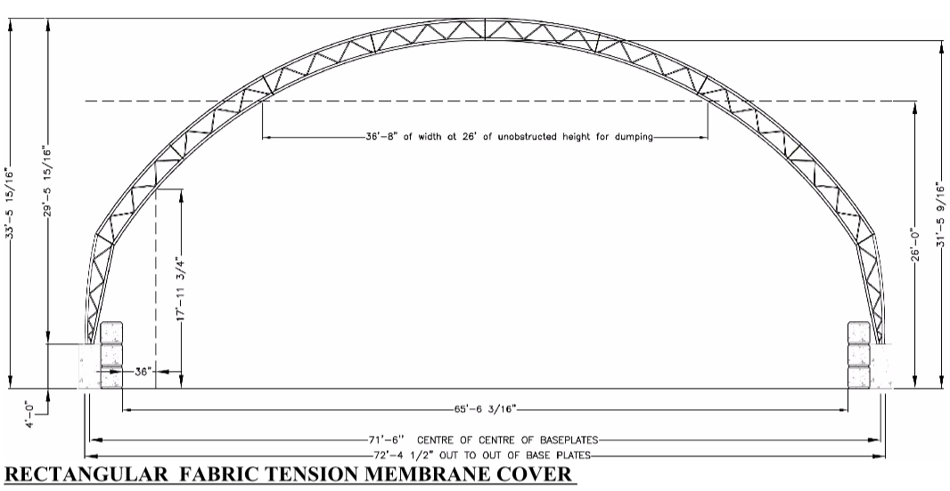 RECTANGULAR FABRIC TENSION MEMBRANE COVER
REFERENCES
1. Except where more stringent requirements are specified, comply with the applicable requirements of the following organizations and standards, for products, materials, and construction methods:
__ State Building Codes.
IBC 2012 Building Code.
American Institute of Steel Construction (AISC) .
American Iron and Steel Institute (AISI).
American Society of Civil Engineers (ASCE 7-10 Minimum Design Loads for Buildings and Other Structures).
American Welding Society (AWS) or Canadian Welding Bureau (CWB)
Aluminum – 6000 Series natural mill finish, unpainted and unanodized.
Welders must be qualified and tested and certified to the CSA Standard W47.1 Div. 2.1
DESCRIPTION
Provide design and construction for a permanent rectangular shape tension membrane covered truss type building. The structure shall meet or exceed the performance criteria of this specification.
The City of _____ has evaluated different styles of Fabric Structures and has determined that this published specification is best suited for the City's needs in terms of quality and features. This specification shall not be interpreted as restrictive but rather as a measure of quality and performance against which all other Fabric Structures will be compared.
In comparing proposals, comparison will not be confined to price only. The successful proposer will be one whose product is judged as best serving the interests of the COP by way of product, quality, delivery and price. The City also reserves the right to reject any or all proposals or any part thereof, and to waive any minor technicalities. A contract will be awarded to the proposer submitting the best responsible proposal meeting the product requirements.
The specification herein states the minimum requirements of the City. All proposals must be regular in every respect. Unauthorized conditions, limitations, or provisions shall be cause for rejection. The City will consider as irregular or non-responsive any and all proposals that are not prepared and submitted in accordance with the proposal document and specification, or any proposal lacking sufficient technical literature to enable the COP to make a reasonable determination of compliance to the specification. It shall be the proposer's responsibility to carefully examine each item of the specification. Failure to offer a completed proposal or failure to respond to each section of the technical specification will cause the proposal to be rejected without review as non responsive. All variances, exceptions and/or deviations shall be fully described. Deceit in responding to the specification will be cause for rejection.
PROJECT REQUIREMENTS
The buildings shall occupy an area of 72 feet wide by 126 feet long, with trusses spaced 14' on center, with a complete fabric enclosed back and open front, as shown on the drawings. The building roof shall be shaped such as that of the Atlas style building shown in the drawings.
FABRIC BUILDING INTERIOR SPACE:
The storage floor area shall be entirely free of columns and roof supports of any type allowing unimpeded unloading of tractor trailer dump trucks and loading of truck spreader vehicles with front-end loading equipment.
Minimum Interior Clearance: 33'-5" minimum vertical clearance including the 6' concrete wall. Sidewall clearance measured 36" from the interior face of the wall must be at least 17'-0" to allow clearance for the loading and unloading of material. An unobstructed interior clearance dimension of no less than 46'-0" must be maintained at 26' of height to provide room for the loading and unloading of material.
FABRIC BUILDING PRODUCT REQUIREMENTS:
The building is to be the Britespan Atlas building or approved equal provided the following minimum required standards are met. Equal manufacturer must be approved by addendum a minimum of 7 days prior to bid opening. Bidders must provide the brand of the building being bid at the time the bid is submitted. No substitutions will be allowed after the project is awarded.
Membrane used in the building design shall be designed to withstand the corrosive UV light according to the manufacturer warranty.
All trusses including the webbing between the trusses must be Hot Dip Galvanized "POST" fabrication. The Hot Dipped Galvanizing must be fully attained inside and outside of the truss and web tubing. Failure to provide this would cause the bid to not be accepted.
All bearing plates and other structural members must be hot dipped galvanized "POST" fabrication, no welding shall take place after the galvanized coating is applied. All anchor bolts, bolts and washers etc., shall be Hot Dip Galvanized.
FABRIC BUILDING STRUCTURAL REQUIREMENTS
A. Structure shall be engineered so it is capable of withstanding the loads specified in ASCE 7-10, and the IBC 2012 code without failure or damage. Design must incorporate both balanced and unbalanced loads. Additional rain on snow surcharge loading must also be added to gable shaped (non arch) buildings per ASCE 7-10.
B. The building system is to be designed to meet a minimum ground snow load of 25? Pounds per square foot, and a wind load of 105mph V-ultimate.
C. Structure must be capable of maintaining structural integrity in the event of a tear propagating in the fabric, without endangering occupants.
D. Truss Framework tubing that is welded shall be Hot Dip Galvanized as per Building Product requirements stated above. The Hot Dip Galvanizing must meet ASTM 123 as per the building code.
Acceptable products:
a) Hot Dip Galvanized Product, galvanizing inside and out after fabrication is completed
b) Aluminum
E. All purlins used in the building must be a minimum of 2 7/8 inches and be attached to the truss using a double bolted configuration directly to the welded dog bone of the truss on each end. Saddle brackets are not a suitable attachment as they allow rotational movement to occur. Cross purlins will not be accepted as they tend to hold snow due to how they mount to the truss at the top chord.
Building must utilize cross cables in each end bay to prevent racking. Main and wind bracing cable assemblies shall be manufactured to the required length and press swaged with metal sleeves. Cables must be a minimum of 5/16" galvanized that is 7 by 19 commercial grade and must be secured to structural welded truss member using a solid bolted or clevis connection and they must be adjustable for proper tensioning with a galvanized, lockable turnbuckle. Cable assemblies attached with open hooks or loops will not be allowed. Cables are to be assembled using a press swedged connection, clamps will not be allowed as the can slide. Cables must terminate at every bay to prevent the removal of galvanizing at wear points causing rust.
F. All tie down pipe that is used to fasten the cover to the building must be secured by a 10,000
pound lashing winch at every truss located on the outside of the structure. This ensures the attachment hardware will not be exposed to the corrosive salt material all of the time diminishing the useful life of the hardware. Ratchet strap attachment to the tie down pipe will not be
accepted as a main cover tensioning system.
G. All cambuckles and ratchet straps used on the interior of the building must be made of stainless steel to ensure it will last for the life of the building.
H. Each individual truss shall weigh a minimum of 1180 pounds.
FABRIC COVER ATTACHMENT;
HDPE Fabric roof material must consist a single cover unless the length required exceeds 140 feet long. The cover must be securely attached at ends and sides.
Field welding is acceptable.
QUALITY ASSURANCE
Manufacturer 's Qualification: The fabricator of the building or building components shall be regularly engaged in the fabrication of this type of building. They must meet the requirements of this Section and shall show evidence of having an adequate manufacturing facility, equipment, and a quality control system. The fabricator must provide evidence that they have produced a minimum of 50 such structures in the previous 12 months before acceptance of this contract. A reference list of 5 salt buildings shall be provided with the bid at the time of opening or the bid will not be accepted. Perspective bidders must submit a copy of their A660 quality control certification at the time of the bid opening. The fabricator shall be subject to the Director's approval.
2.Erector's Qualification: The building erector shall be regularly engaged in the erection of fabric covered buildings, meeting the requirements of this Section. The erectors must provide evidence that they have constructed a minimum of 5 such structures before acceptance of this contract. The erectors shall be subject to the approval of the Director.
WARRANTY
A. Steel Truss Warranty: Truss Framework tubing must be Hot dip Galvanized inside and out of tubing - completely after fabrication. Failure to provide proof of this will cause the bid to be denied. The manufacturer is to provide a minimum 3-year pro-rata warranty on the trusses according to the standard manufacturer's warranty.
B. Fabric Warranty: All membranes used are to be North American made, water and mildew resistant, insect proof, and UV stabilized. They are to withstand extreme climatic variations and contain ultra-violet inhibitors to reduce degradation by the sun's rays. Manufacturer is to provide a minimum 16-year pro-rata warranty on non-fire rated fabric and a 10- year pro-rata warranty on fire rated fabric according to the standard manufacturer's warranty.
MATERIALS FABRIC SPECIFICATIONS:
The HDPE fabric must be produced in North America with minimum fabric specification as follows:
(NON-Fire Rated)
Coated Weight 12 .1 oz/sy (373 gsm)
Base Fabric Weight 4 mils average, each side
Finished Thickness 23 mils (ASTM D-5199)
Grab Tensile Strength, lbs 446 lbs Weft (ASTM -D5304)
414 lbs Warp (ASTM -D5035)
Tongue Tear Strength, lbs 108 lbs Weft (ASTM -D2261)
94 lbs Warp (ASTM -D2261)
Mullen Burst 653 psi (ASTM -D3786)
Cold Crack Resistance -55oC (ASTM –D2136)
Resistance to UV & Weathering 90% retention after 2000 hr.
Permittivity <2.5 x 10-6 cm/s (ASTM D-5199)
Hydrostatic Resistance >171 psi (ASTM D-751A)
Flame Resistance ASTM E84
Flame Spread ASTM E84
Smoke Developed 170 (ASTM E84)
The stressed membrane structure must be designed to shed snow before the design load is exceeded, or alternatively provide structural capacity to meet or exceed required roof snow load requirements of specified site. The architectural membrane shall be continuous from the base of the structure to the peak and manufactured in such a way that no eave will exist.
METAL SPECIFICATIONS
The main structure shall consist of a welded truss arches with parallel tubes separated apart by tube webs.
Atlas 24 – 2.875 inch Tube, minimum 10 Gauge tube, minimum truss depth of 24 inches out to out, with minimum 1.25 inch 14 Gauge tubular webbing, All Hot dip Galvanized Post fabrication.
All steel tubing used in the structure must have the following minimum structural and mechanical properties (ASTM A-500): Tension Ultimate: 55 KSI and Yield: 50 KSI
All steel flat bar, cross rods and other steel components shall be fabricated from hot dipped galvanized material to CAN/CSA-G164-M92 meeting ASTM Standard B6 zinc coatings; and must have the following minimum structural and mechanical properties (ASTM A-44W): Tensile: 50 KSI and Yield: 44 KSI
CORROSION PROTECTION
All steel truss tube components, shall be Hot Dip Galvanized after complete fabrication. No welding is permitted after the galvanizing process. "Triple coat" or other "in-line" galvanizing will NOT be accepted on welded members as it does not provide galvanizing on the inside of the tubes and is applied pre fabrication leaving the pipe unprotected from corrosion after fabrication. In-line galvanizing is acceptable on non-welded pieces.
PAINTING:
Painting of steel components shall only be utilized if necessary for field repairs and shall not be employed as a factory finish. Should field repair be necessary, a zinc rich field coat shall be used.
FIELD WELDING:
In-Field fabric welding is accepted as a standard method of joining panels, rounding corners, repairing minor cuts or abrasions.
PRODUCT MANUFACTURERS:
The following manufacturer is preapproved and meets or exceeds this Specification.
Britespan Building Systems Inc.
REFERENCES AND STANDARDS
The following publications are for the standards listed below but referred to thereafter by basic letter designation only. They form a part of this specification to the extent referenced thereto: American Institute of Steel Construction (AISC):
ASCE 7 - Minimum Design Loads for Buildings and Other Structures; American Society of Civil Engineers; 2011. ASTM A36/A36M - Standard Specification for Carbon Structural Steel; 2008. ASTM A53/A53M - Standard Specification for Pipe, Steel, Black and Hot-Dipped, Zinc-Coated, Welded and Seamless; 2012.
A. ASTM A307 - Standard Specification for Carbon Steel Bolts, Studs, and Threaded Rod 60 000 PSI Tensile Strength; 2012.
B. ASTM A325 - Standard Specification for Structural Bolts, Steel, Heat Treated, 120/105 ksi Minimum Tensile Strength; 2010.
C. ASTM A325M - Standard Specification for Structural Bolts, Steel, Heat Treated 830 MPa Tensile Strength (Metric); 2013.
D. ASTM A500/A500M - Standard Specification for Cold-Formed Welded and Seamless Carbon Steel Structural Tubing in Rounds and Shapes; 2010a.
E . ASTM E84 - Standard Test Method for Surface Burning Characteristics of Building Materials; 2013a.
F. AWS D1.1/D1.1M - Structural Welding Code - Steel; American Welding Society; 2010 or CWB Canadian Welding Bureau.
G. NFPA 701 - Standard Methods of Fire Tests for Flame Propagation of Textiles and Films; National Fire Protection Association; 2010. SSPC-SP 6 - Commercial Blast Cleaning; Society for Protective Coatings; 2007. SSPC-Paint 20 - Zinc-Rich Primers (Type I, "Inorganic," and Type II, "Organic"); Society for Protective Coatings; 2002 (Ed. 2004).
H. SSPC-Paint 22 - Epoxy-Polyamide Paints (Primer, Intermediate, and Topcoat); Society for Protective Coatings; 1982 (Ed.2004).
COLORS
As selected by the Director's Representative from standard Manufacturer's Color charts.
ADJUSTING
Repair cut, welded, and/or abraded galvanized surfaces with a minimum 2 mil thick coating of cold galvanizing compound (containing 93 percent zinc) applied in accordance with manufacturer's instructions.
END OF SECTION