Barrier-Bac XF Seam Tape- 30 mil Tape
Barrier-Bac XF Seam Tape is a 30 mil ribbed tape that brings a very high adhesive strength to seal all seams. Made with virgin polyethylene resin, the tough outer layer is a 5 mil multi-ply, textured, cross laminated membrane. The adhesive coating is a 25 mil modified asphalt which offers adhesive strength in low temperatures.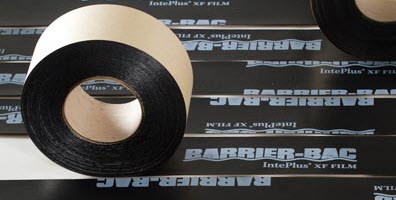 Barrier-Bac XF Seam Tape compliments ribbed Barrier-Bac Vapor Barrier products by forming an interlocking mechanical bond. It tightly blocks moisture from entering through the seams. All the seams and joints can be joined by seam tape. All penetrations must be sealed with a Barreir-Bac vapor retarder and seam tape.
Quantities and Roll Size:
4' x 150'- nine rolls in one carton, 180 rolls on a pallet