GPS Fire Retardant Strapping (White with the red tracer liner)
Ultra Strapping FR The White Woven Polyester Strap
This poly strapping has red tracer lines "Redstripe" that meets the requirements of the NFPA 701, "Standard Methods of Fire Tests for Flame Propagation of Textiles and Films, 2015 edition, (Test 1, Small Scale) for being fire retardant! This strapping out performs steel strapping/ banding in so many ways! The U.S. Navy has specified fire retardant strapping for a wide variety of applications. Ultra Strapping FR is specifically formulated to meet or exceed the break strength of steel banding/strapping. No longer do you have to worry about steel banding snapping and injuring you. Safety Strapping replaces steel banding. It is as strong and is more economical!
Coil Weighs 1/4 the weight of steel strap coils.

Disposal is fast and easy.

No rust, stains or damage to the product.

Reduced failure rate compared to steel strapping.

Virtually eliminate worker comp issues related to back injuries or skin lacerations.

Ability to re-tention strap and re-use strap.
The FR version is ideal for applications where fire retardancy and safety are desired.
Click here for NFPA 701-15 fire cert. for 3/8" inch Strapping
Click here for NFPA 701-15 fire cert for 3/4" inch Strapping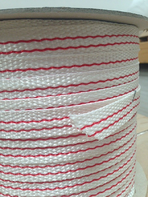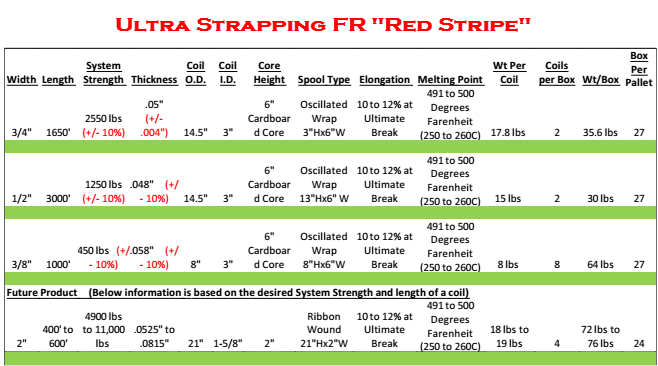 Not sure if you need woven poly strapping? Learn about other types of strapping here.
Ultra Strapping FR and Regular Orange Strapping Samples!!!
GPS Fire Retardant Poly Strapping Questions?
We can be reached so many ways.
By Phone Toll Free In the U.S. 866 597 9298
By Phone directly: 760 597 9298
By Fax: 760 597 9574
THANK YOU!