Self Adhesive (Sticky) Surface Protection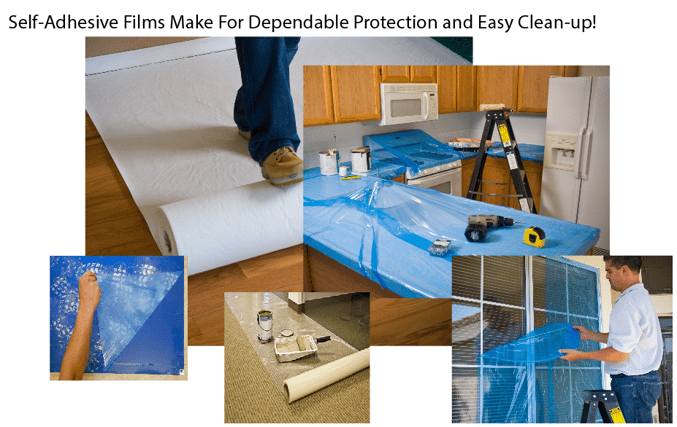 Global Plastic She

eting offers the following self-adhesive, reverse wound films to protect:
GPS Carpet Plastic
GPS Floor Plastic
GPS Countertop Plastic

GPS Glass Plastic
GPS Tacky Doormats
GPS Carpet Plastic,the carpet protector is a virtually clear**, reverse wound, sticky side out self-adhesive carpet protection film (plastic sheeting) that will withstand construction activities, weekend painting projects and foot traffic for 45 days in normal circumstances, keeping the carpet the way you found it before you started working. Use it as a carpet runner for open houses! . GPS Carpet Plastic will stay in place. There is not worry should the paint can get knocked over.
It out performs the traditional canvas drop cloth since paint cannot seep through the plastic.

Check out some stand-out features:
3 mil Self-adhesive, State-of-the-art adhesive system
Available in Fire Retardant version
Water-based acrylic
Won't discolor carpets
Stocked in Automotive, RV & Exposition plus Fire Retardant
Leaves NO adhesive residue
Satisfaction Guaranteed

Made

in

the

USA

-

which means your carpet won't be ruined by imported solvent based adhesives that leave behind residue or change or carpet orange!
SIZES:
24" x 200'
36" x 200'
36" x 500'
48" x 500'
Call 760.597.9298 for information. Thank you!
Data Sheet Installation instructions click here please.
_________________________________________________________________________________
GPS Floor Plastic-The Plastic Sheeting made especially for hard floors!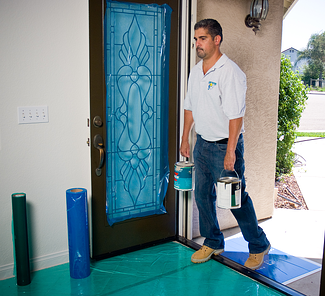 GPS Floor PlasticTM- This incredible self-adhesive (sticky) floor protection film will withstand your construction activities and foot traffic for 45 days in normal circumstances. State of the art water-based adhesives are used while manufacturing this product under very strict quality assurance guidelines (ISO9001-2000 certified facilities) in the USA. Also used to cover floors for lead based paint abatement! Are you looking to brand your job with your company colors? Floor Plastic is stocked in green, but can be made to order in other colors. We want you to have the best color for your branding.
GPS Countertop Plastic- Protect Hard Damage Prone Surfaces! (Free Shipping)
GPS Countertop Plastic
Scratch protection for all types of countertops
Blue tinted polyethylene film, 3 mil thickness
State-of-the-art adhesive system
Easily installed and removed

Size: 24" x 500'- Blue

30" x 500'- Blue

24" x 600'- Clear

** Available in Red, Green, Blue- just about any color. Minimum orders may apply.
Where does everyone put their tool boxes, cans of paint, or work tools? On the counter! Before the counter gets scratched or stained why not protect it? Countertop Plastic is the self adhesive (sticky) plastic sheeting that keeps counters protected from damage from tool belts, workman standing on the counters to work over-head, etc.
Call 760.597.9298 for information. Thank you!
Click here for Countertop Plastic details
_______________________________________________________________________________
Glass/Window Plastic-Self-Adhesive Window protection for protecting glass windows during construction/renovation- In Clear and Blue!

GPS Glass Plastic- 180- Day (Free Shipping)

180 Day glass plastic


3 mil glass films

Stocked in blue and clear


Self-adhesive polyethylene films

State-of-the-art adhesive systems

If the windows are operational, they can be opened and closed for interior ventilation, without damaging the protection

24" x 500'- blue


30" x 500'- blue

24" x 600'- clear

So often, window panes get scratched during construction. Anyone with experience in the construction industry will agree that windows must be protected during the entire construction process. The enforcement of this protection is the responsibility of every general contractor. Global Plastic Sheeting offers 2 different glass/window protection films, in both blue and clear versions, to alleviate those mishaps.
Click here for GPS Glass Plastic details
Please click here for customer reviews. Click the "Reviews" tab
GPS Tacky Doormats- The Sticky Doormat!

Stop tracking dirt into unwanted areas. Place super sticky GPS Tacky Doormats in high traffic areas to protect and extend the life of finished floors and carpets. Mats are designed to remove dirt from shoes before entering houses, gym floors, construction sites, renovation areas, laboratories and clean rooms. There are many GPS Tacky Doormat sizes available!
Click here for GPS Tacky Doormat details