Greenhouse Plastic SolaWrap- The Clear Bubble Greenhouse Film
Solawrap Greenhouse Plastic
SolaWrap (bubble film) is the transparent, energy saving, UV Protected Greenhouse roofing material/ greenhouse film (greenhouse plastic) that has revolutionized the greenhouse industry.
The top images are our customer's greenhouses! Cannabis does very well in our Solawrap greenhouses as well! There is 6 mil plastic sheeting that is used as a greenhouse plastic- but it was not designed specifically for that function. 6 mil plastic is all around plastic. Solawrap is a greenhouse film that was designed specifically for greenhouses. This film cares about the insulating factors, light diffusion and more. Please read below why this film is a superior solution for your greenhouse.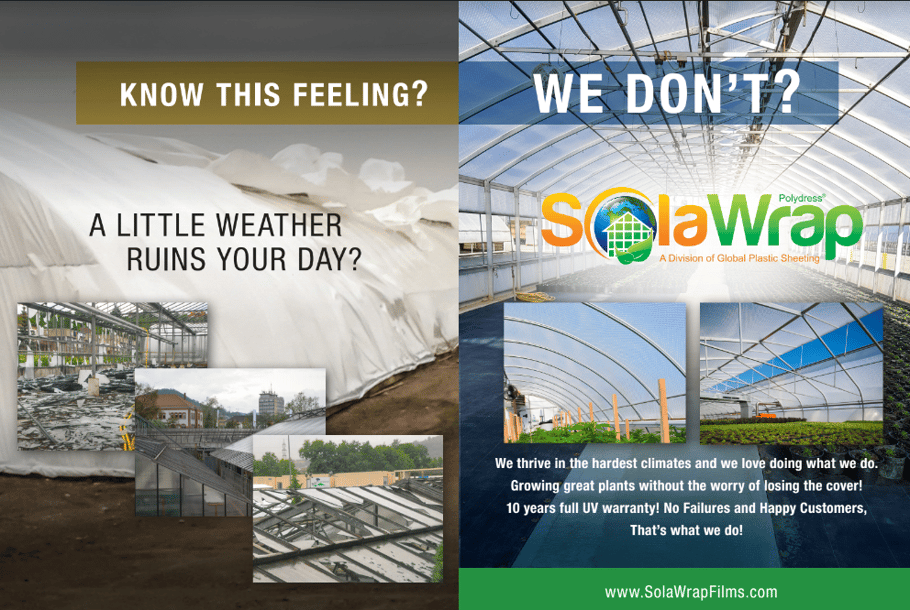 10 Reasons to Use Solawrap Clear Plastic Sheeting For Greenhouses:
R-Value 1.7

83% transparency

10 year warranty against UV degradation (better warranty than polycarbonate)

up to 83% diffused light (only product on the market with both high transparency and high diffusion)

120 lbs per square foot snow load rating (approx 15 feet of snow)

100 mph wind rating (has survived 135 mph windstorms in Alaska)

Has been shown to last up to 27 years on greenhouses in Europe

Does not yellow or get brittle

Flexible so it can be rolled up inside wall curtains

More cost efficient than polycarbonate
Click here to read more about SolaWrap Greenhouse Plastic
Please call 855 SOLA USA for more information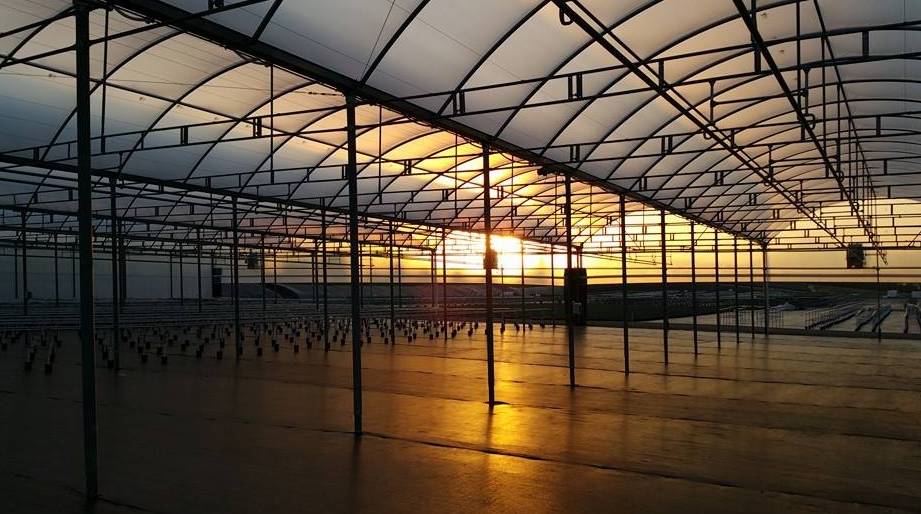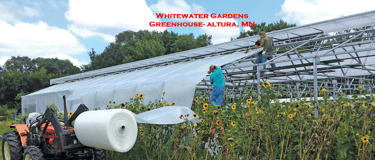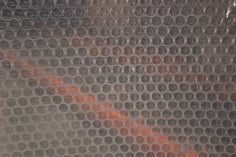 Solawrap Video Series
Topics include:
installing Solawarp on a Frame (with great music on top of it!)
Roll-up curtains for SolaWrap
Comparing soft poly films to hard polycarbonate and glass

Evaluating greenhouse films

How to build a Solawrap greenhouse
To view short videos about Solawrap,
please click here.
What's the "BEST" Greenhouse Plastic for a Greenhouse Covering?
Greenhouse plastic comes in many forms:
6 mil plastic sheets- some people use 6 mil poly for their greenhouse covering. Its greatest asset is its economical. It will get you by. But if you have a bad storm and it gets damaged in any way, you must recover you structure and get back to work in the poor weather.
Twin wall polycarbonate- Proponents of this greenhouse cover say it's impact resistant, attractive, and will not yellow. The down side is the cost, how easily it scratches, and is difficult to cut.
Fiberglass- fiberglass is not used as much as it once was...
Miscellaneous greenhouse covers (Glass, reinforced plastic, varying thicknesses of poly films)
Solawrap Films....please see this page for all the attributes that have growers coming on board seems like daily. The downside to Solawrap is the cost- but, factor in your labor, and the fact that you may never have to recover your house again- and then ask your self if the cost of the film is really a factor.
The point is, when deciding on a greenhouse covering, compare the attributes of each, and factor in your labor. Should (not likely) a panel of Solawrap greenhouse plastic get damaged, you simply replace that one strip. Your whole greenhouse is not in shambles. The time to fix it is a faction of redoing the whole greenhouse. Plus you don't stand to loose your whole crop.
Greenhouse Plastic- Greenhouse Film
Poly Scrim 14 Greenhouse is a 14 mil, 3 ply laminate that combines 2 layers of U.V. stabilized polyethylene with a highly durable, high strength cord grid. The U.V. additives in this film will protect your greenhouse from the deteriorating damage from the sun. It's these U.V. stabilizing additives that makes this greenhouse plastic sheeting capable of out-performing other clear plastic products that lack this state of the art formulation.
The high strength cord that runs through the plastic offers extreme tear resistance. Best of all, this film remains lightweight.
Custom fabrication allows for pipe loops, grommets and zippers.
COLORS: Clear, Black, White
Poly Scrim 14 Greenhouse in clear will transmit 80% diffused light.
Poly Scrim 14 Greenhouse in White allows 20% light transmission.
Poly Scrim 14 Greenhouse in Black has almost no light transmission.
All Poly Scrim Greenhouse products are seam welded to reduce seam leakage. They can be applied over your existing greenhouse structure in just a few minutes.